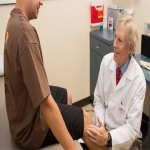 Athletic Orthopedics & Knee Center's (AOKC) orthopedic surgeons are Experts in Motion.
With over 25 years of expert care in the Memorial/Spring Branch area and beyond, each of our surgeons has specialized training in their specific field and are devoted to providing care for injuries related to the hand, shoulder, knee, ankle & foot, pain, spine and sports medicine.
From injury prevention to post-injury rehabilitation, our specialists want to keep you moving. Whether you are a student or professional athlete or a weekend warrior, we will keep you in motion.