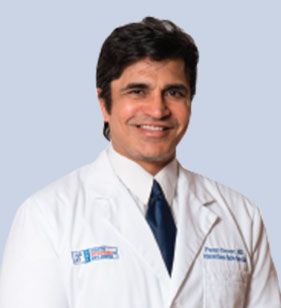 Pawan Grover, M.D.
Back Pain And Interventional Specialist
Background:
Dr. Grover is a graduate of the renowned UMDNJ-Robert Wood Johnson Medical School (Rutgers Medical School) where he earned honors in Surgery and Family Practice. He has practiced medicine for 10+ years in a variety of National and International settings. His research has been published in numerous prominent medical journals. Dr. Grover trained with world-renowned pain specialist, Professor Michael Cousins, at the Royal North Shore Hospital in Sydney, Australia and completed his residency at the University Of Texas Medical School Department Of Anesthesiology. He earned an undergraduate in pre-med at Rutgers University in New Jersey.
More about Dr. Grover:
He has presented key research to colleagues at medical conferences held in Seattle, New York, Washington D.C., Philadelphia and San Diego. He has also traveled to Ecuador as a part of a Good Will Mission to treat patients and give seminars to local doctors in mountain villages. Dr. Grover worked extensively in the national media when he took on the suicide doctor Jack Kevorkian and intervened on behalf of some of his patients. He debated Kevorkian's attorney on LARRY KING LIVE. His work in medicine has been featured on the Discovery channel, CNN, ABC, CBS, NBC and numerous international media outlets. He has been featured in the New York Times, USA today, Reuters, Detroit Free Press, The Houston Chronicle and India Today. He has led breakthrough research in an FDA study on intractable angina and spinal cord stimulators. CNN and other national television networks covered the surgery where Dr. Grover successfully implanted a stimulator in the patient's spine. Dr. Grover was a Medical Director (1994-96) for the Memorial Center for Pain Management; a multidisciplinary facility staffed with physical therapy, psychology and neurosurgery specialist at the Memorial Hospital Southwest, Houston, Texas. Before that, Dr. Grover was a staff Anesthesiologist and Pain Specialist with the Greater Houston Anesthesiology Group for board certified anesthesiologists and the Director of Acute Services at Houston's Herman Hospital. Hillary and Bill Clinton presented Dr. Grover an award at the White House in 1995 for his work in Medicine. NBC news also honored him for outstanding community service.