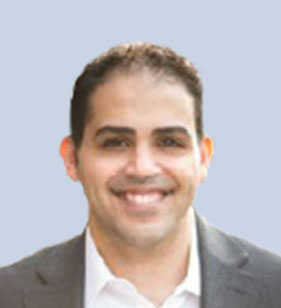 Amr El-Khashab, DPM
Podiatrist, Foot & Ankle Surgeon
Background:
Dr. Amr El-Khashab joined Dr. Rubin at the Foot Wellness Center in 2017. He is a proud Houstonian, and after spending the last seven years practicing in New York City, he is happy to be back and serving his hometown.
Dr. El-Khashab completed his undergraduate studies at Texas A&M University. He then earned his podiatric medical degree at the Scholl College of Podiatric Medicine/Rosalind Franklin School of Health Sciences in Chicago, Illinois. After moving to New York City, Dr. El-Khashab went on to complete an intensive three-year medical and reconstructive foot and ankle surgical residency program at Interfaith Medical Center. It was there where he earned the honor of being chief resident before furthering his training with a one year fellowship. He has and continues to perform a vast array of surgical procedures and has trained extensively with other specialties such as orthopedics, pediatrics, vascular surgery, and plastic surgery.
After several years of private practice and teaching at various New York hospitals, Dr. El-Khashab decided to head back to Texas with his family. He has been a welcome asset ever since. His diverse background of experience provides him with ample expertise, and allows him to devise well-rounded treatment plans for his patients.
More about Dr. Amr:
Dr. El-Khashab is Board Certified by the American Board of Podiatric Medicine and is an an associate of the American College of foot and ankle Surgeons. He is an active member of The American Podiatric Medical Association as well as the Texas Podiatric Medical Association.
Outside of the white coat, Amr enjoys pick up soccer, experimenting in the kitchen, and most of all, spending time with his growing family.