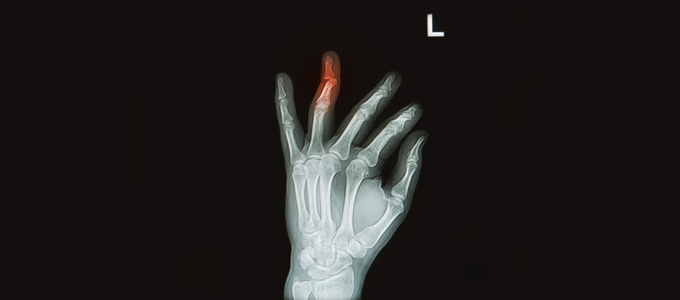 Do you know what to do in the event that you break or fracture a bone in your hand? Your hands are very important to your everyday life, so acting quickly when an injury occurs is vital.
Injury Causes
Causing an injury to the hand is fairly common and very preventable. A hand injury can occur by blunt force trauma, falling, sport injuries and crushing the hand.
Symptoms
Below are some symptoms that occur if you have broken a bone in your hand. If you experience any of these symptom, seek medical attention for an orthopedic doctor.
Bruising
Inability to grasp objects
Misalignment of the finger
Pain
Reduced range of motion
Swelling
Weakness
When to Call a Doctor
Follow your gut when it comes to an injury to your hand. If you feel too much discomfort and it lasts more than a few days, then make an appointment to see a specialist.
Your doctor will most likely order an x-ray of your hand to check for any broken bones or fractures. He or she will also examine your hand to see if any tendons, blood vessels or nerves were also damaged.
At Home Treatments
Whether the injury to the hand is major or minor, here are some first aid tips to assist you from further injury.
Stop bleeding – Use a clean towel or cloth over the wound, apply direct pressure and elevate over the head.
Reduce swelling – Wrap the hand in a towel and apply ice. This can also help to reduce any pain.
Remove jewelry – Before the hand swells, remove any jewelry as it may stop blood from flowing through the finger. If the jewelry cannot be removed a doctor can cut it off in the ER.
Isolate the injury – Keep the hand as motionless as possible to prevent further injury by making a splint.