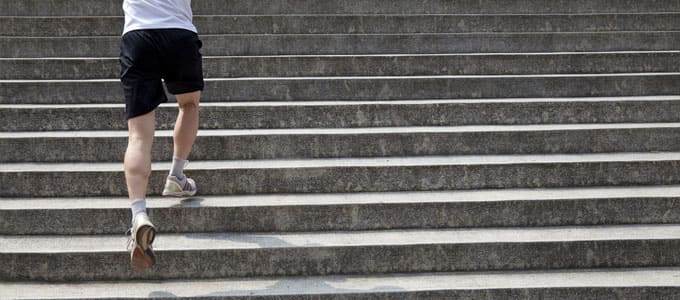 Running the stadium steps has been a standard for some school athletes for conditioning, and some coaches prescribe it as a disciplinary penalty. We now know this is punishing to your knees and specifically your kneecaps if not to your spirit. The problems it causes are threefold.
The first is that eccentric contraction of the muscle (downhill running) causes muscle soreness. The second is that knee flexion with weight puts extra pressure on the knee and knee cap. The third is that this is an "open-chain" activity. A "closed-chain" activity keeps your foot on something (biking is a simple example and machine stair climbing, leg pressing, or skiing are others). When you jump or take your foot off a platform and reposition it, an increased force is applied, which may be many times your body weight. Therefore, a combination of all three of these can cause trouble with stairs.
One step program has devised something called an "air bench," which has a flexible wood platform over a spring meant to absorb impact and protect joints. It even puts spring in your step with the resulting reaction from the impact.
However, just as a sip of wine doesn′t cause alcoholism, a moderate amount of traditional stair stepping, bench work, or other similar activity is OK. The only patients I tell to avoid open-chain activities are ones who have pain while doing them (that′s a no-brainer) and those with knee problems.
Bench aerobics probably got their start because of boredom with a pure dance aerobic workout coupled with a desire to get a more demanding workout. As I stated above, too much can bring men or women to their knees, but a moderate amount of bench aerobics is OK. Maybe many men and women doing aerobics had not experienced the negative aspect of running stairs in football and basketball, and a step program appealed to them. It was known to be a quick way to raise the heart rate and get a better workout.
The Harvard step test is a standard way to medically "stress" someone (a patient is rapidly stressed by a step regimen, and heart rate and blood pressure are recorded and compared to average, or normal, values). As step programs gained popularity, athletes and doctors contributed advice from their experience and better workouts resulted. Using a lower step goes a long way toward preventing injury and decreasing the power of the three drawbacks mentioned above without diminishing the aerobic effects of the workout.
This is a section from Dr. Jack E, Jensen's book The One Stop Knee Shop. Read the next section Running to REDUCE Knee Injury.