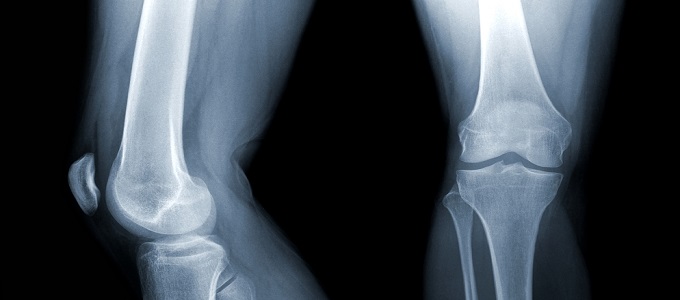 In a treatment program, a physician must also be sure that pain is coming from the knee. In children and adults, pain in the knee can be associated with low back problems such as herniated disks, hip problems such as arthritis, or a slipped growth plate (capital femoral epiphysis) in the child. Slipped capital femoral epiphysis is a condition in which the growth plate actually slips in the hip area, but generally there is no pain there. Instead, it limits hip motion and brings knee pain. Although no one likes to talk about them, tumors do occur about the knee. In fact, the knee is one of the most common locations in the body for all types of tumors.
Bone tumors, such as the one sprouting here from the femur, are rare.
Tumors are either benign—an overgrowth of normal tissue—or neoplastic—what is considered cancer. This second type of growth is definitely abnormal, can metastasize or spread to other areas of the body, and has the potential to be fatal. Many times bumps around the knee are benign tumors called osteochondromas (osteo means "bone" and chondroma means "cartilage"). Only the larger variety of these has a large cartilage cap with the potential to become neoplastic. There is also a little more worry if patients have multiple osteochondromas throughout their whole body. There are many types of cancers (neoplastic tumors), varying by age group and the tumor's malignancy period. Osteosarcoma is a very aggressive, potentially fatal tumor found in the knee. Any type of knee bump or nodule that does not go away and any radiographically detected abnormal area on the knee should be fully evaluated by a professional.
This is a section from Dr. Jack E, Jensen's book The One Stop Knee Shop. Read the next section Bone and Cartilage Separation.